Goya offers a range of titillating fragrances and grooming products that is for a tween girl to express herself. It's unique fragrances are accessible and will be her on-the-go companion, where ever she goes. Since inception, Goya has won many hearts with its fragrances as well as its packaging, that emanates a sense of love and romance and a little of mischief.
The brand has been present in the market for over three decades, offers a wide range of products in the form of colognes, body mists and body lotions. Colognes consists of three floral variants; Captivating Rose, Mesmerizing Jasmine and Enchanting Carnation along with its complimenting three body lotion variants. The three variants of Goya body mists completes the range with its unique fragrances and with the user friendly packaging.
Essentials
Goya Jasmine, an aromatic floral that offers you a soothing & refreshing fragrance experience.
Goya Lavender, a light fragrance to calm the senses.
Goya Gardenia, an enchanting fragrance that adds to your femininity, ideal for the evening
Goya Black Rose, a sensuous fragrance for a passionate evening.
Product Range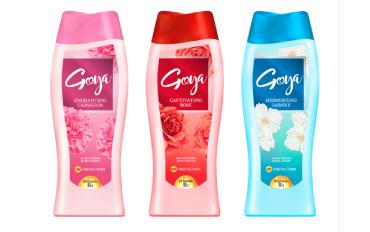 Goya Soaps
Goya Perfume Soaps : Pink Rose and Creamy White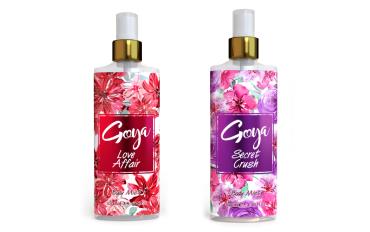 Goya Body Spray
Goya Body Spray: Love Affair, Mischief Maker, Secret Crush, Sweet Dreams and Summer Kiss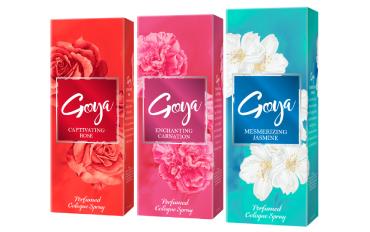 Goya Perfumed Cologne Range
A range of romantic single floral fragrance that defines girlish romance, Goya Jasmine, jasmine, Lavender, Gardenia, Black Rose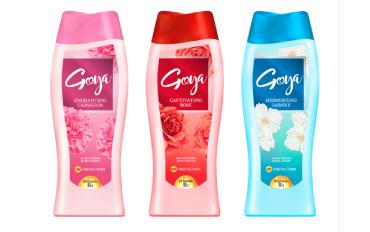 Goya Body Lotion
Captivating Rose, Irresistible Gardenia & Mesmerizing Jasmine